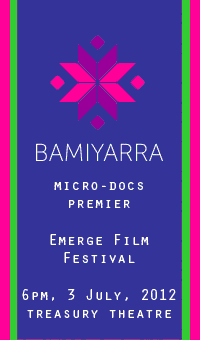 Premier screening of two Bamiyarra micro-docs, Migration and Hope In Life, at the Emerge Film and Arts Festival presented by Multicultural Arts Victoria.
Migration is the story of a Hazara family that sought refuge in Australia, how the open sea both carried them here and afforded one of their sons a future in the surf. Hope In Life follows the aspirations of Hazara who sought asylum in Australia to pursue their education and arts practice, and how their ties to home land influences and sustain them regardless of the challenges they face.
The micro-docs were mentored in collaboration with Melbourne film-makers Penne Thornton and Naina Sen and produced by Andrew Garton.
Premier 6pm, Tuesday 3 July, Treasury Theatre, Melbourne.
Bamiyarra is a Home Lands v2 project – a unique concept that asks artists to collaborate with young Hazara to make art and engage in conversations about cultural origins and transformations, youth identity and aspirations.
Home Lands v2 is a collaboration between La Trobe University, City of Melbourne and the Cultural Development Network. Home Lands is funded by an Australian Research Council Linkage Grant, City of Melbourne and the Cultural Development Network.